26 Sep 2022
Schneider Electric and AVEVA partner with Shell to accelerate net-zero transition in hard-to-abate sectors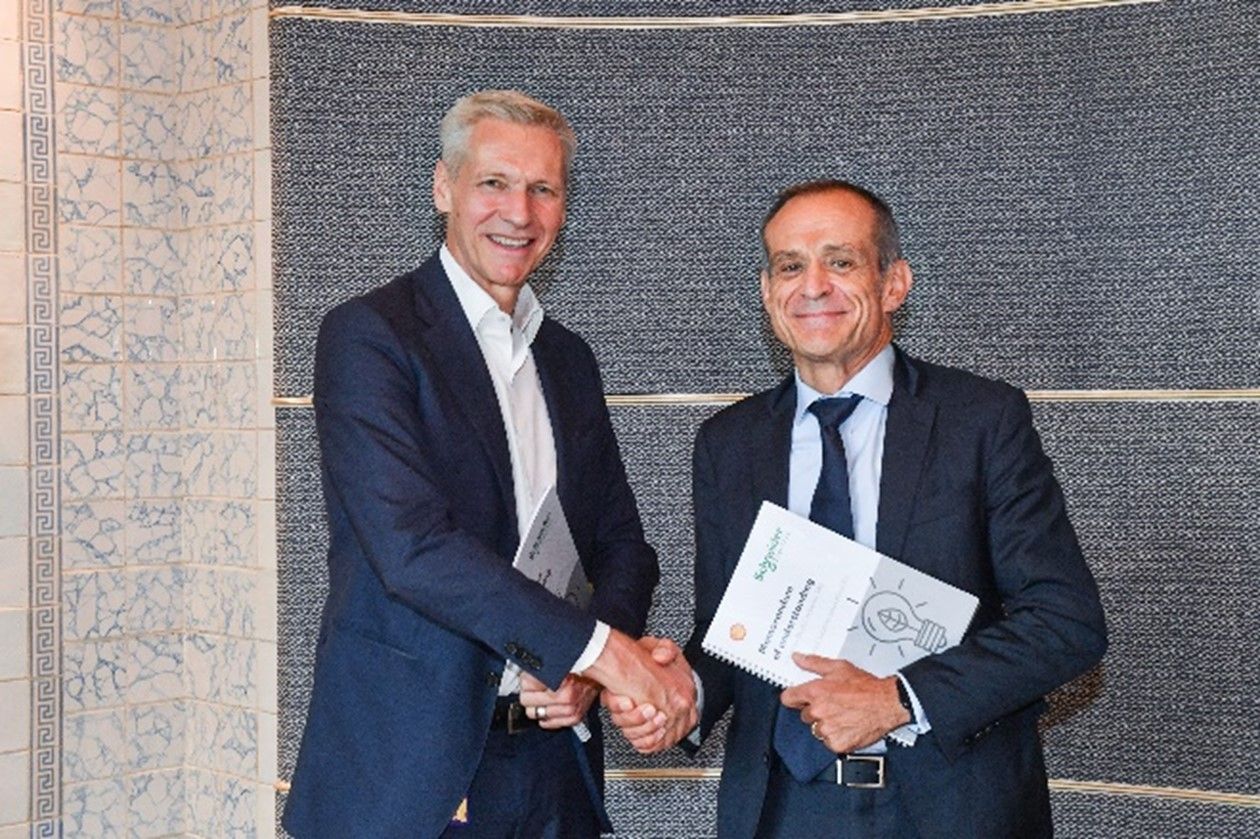 Rueil-Malmaison (France), September 26, 2022 – Schneider Electric, the leader in the digital transformation of energy management and automation, AVEVA, a global leader in industrial software, and Shell, the global energy and petrochemicals company, have formed a global strategic alliance to support their respective and wider sectors' transition to net-zero agendas. The organizations will explore opportunities to co-develop integrated end-to-end energy solutions designed to power the decarbonization of their customers in hard-to-abate industries, such as cement.
Energy-intensive and heavy industry companies need trusted partners and solutions that can reduce greenhouse gas (GHG) emissions, increase the effectiveness of their operational processes, and deliver greater energy efficiency, security, resilience, availability, and reliability. The partnership agreement between Schneider Electric, AVEVA, and Shell brings customers an enhanced set of integrated solutions with a range, scale, and scope that is greater than each could offer alone.
Harry Brekelmans, projects & technology director at Shell (left) and Jean-Pascal Tricoire, Chairman and CEO at Schneider Electric, formalizing the global strategic alliance.
The combination of their respective complementary consultative, technical, digital, and energy-specific capabilities—from high level process modelling, simulation, and advice to site-specific decarbonization solutions—will have an immediate impact on industries.
Focusing on the cement sector initially, the newly formed alliance aims to reduce emissions by up to 15% for customers in a typical deployment. The approach will focus on enabling a more efficient transition to renewable energy sources. More accurate process analytics, improvements to dynamic tactical simulation, and digital integration for furnace and mill grinding process improvements will drive a reduction in resource use.
AVEVA and Schneider Electric will contribute integrated digital engineering, operational process, and energy optimization technologies, combined with deep sustainability expertise, to the alliance. These capabilities will support the design, construction, and more efficient operation of increasingly carbon neutral facilities. They will also help to create production plans that optimize the value chain and reduce GHG emissions.
Shell brings to the partnership end-to-end sustainable energy supply solutions, global project engineering capabilities, a large renewable energy generation and asset portfolio, as well as a broad range of sectoral sustainability solutions.
Harry Brekelmans, projects & technology director at Shell, said: "Both our companies have strong ambitions to achieve net zero emissions. This partnership represents another significant step forward. Both Shell and Schneider Electric intend to explore potential opportunities across digital solutions, technology, sustainability consulting, and energy supply capabilities to develop end to end integrated energy solutions to decarbonize our own businesses and wider sectors".
Jean-Pascal Tricoire, Chairman and CEO, Schneider Electric, said, "Partnerships are vital for decarbonization. They provide benefits to all parties and accelerate the global energy transition. The combined capabilities and expertise of Shell, AVEVA, and Schneider Electric will result in innovative sustainability solutions critical to the journey to net-zero."
"We are pleased once again to extend our relationship with Shell," said Peter Herweck, CEO, AVEVA. "We have already seen the benefits in terms of safety, reliability, and efficiency with many previous successful engagements, and we will continue to deliver our vision of a responsible use of the world's resources."
About Schneider Electric
Schneider's purpose is to empower all to make the most of our energy and resources, bridging progress and sustainability for all. We call this Life Is On.
Our mission is to be your digital partner for Sustainability and Efficiency.
We drive digital transformation by integrating world-leading process and energy technologies, endpoint to cloud connecting products, controls, software and services, across the entire lifecycle, enabling integrated company management, for homes, buildings, data centers, infrastructure and industries.
We are the most local of global companies. We are advocates of open standards and partnership ecosystems that are passionate about our shared Meaningful Purpose, Inclusive and Empowered values.
www.se.com
About AVEVA
AVEVA is a global leader in industrial software, sparking ingenuity to drive responsible use of the world's resources. The company's secure industrial cloud platform and applications enable businesses to harness the power of their information and improve collaboration with customers, suppliers and partners.
Over 20,000 enterprises in over 100 countries rely on AVEVA to help them deliver life's essentials: safe and reliable energy, food, medicines, infrastructure and more. By connecting people with trusted information and AI-enriched insights, AVEVA enables teams to engineer efficiently and optimize operations, driving growth and sustainability.
Named as one of the world's most innovative companies, AVEVA supports customers with open solutions and the expertise of more than 6,400 employees, 5,000 partners and 5,700 certified developers. With operations around the globe, we are headquartered in Cambridge, UK and listed on the London Stock Exchange's FTSE 100.
Learn more at www.aveva.com.
About Shell
Shell plc is incorporated in England and Wales' has its headquarters in London and is listed on the London' Amsterdam' and New York stock exchanges. Shell companies have operations in more than 70 countries and territories with businesses including oil and gas exploration and production; production and marketing of liquefied natural gas and gas to liquids; manufacturing' marketing and shipping of oil products and chemicals and renewable energy projects. For further information' visit www.shell.com. The companies in which Shell plc directly and indirectly owns investments are separate legal entities. In this document "Shell" is sometimes used for convenience where references are made to Shell plc and its subsidiaries in general.
Copyright © 2022 AVEVA Solutions Limited. All rights reserved. AVEVA Solutions Limited is owned by AVEVA Group plc. AVEVA, the AVEVA logos and AVEVA product names are trademarks or registered trademarks of AVEVA Group plc or its subsidiaries in the United Kingdom and other countries. Other brands and product- names are the trademarks of their respective companies.