22 Sep 2022
Global Green Energy Company Fortescue Future Industries chooses AVEVA for renewables design projects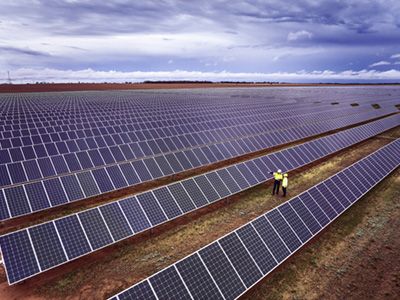 Sydney, Australia, 22nd September 2022 – AVEVA, a global leader in industrial software, driving digital transformation and sustainability, will collaborate with Australian green energy company Fortescue Future Industries (FFI) to help develop the renewables sector. The FFI alliance will extend AVEVA's contribution to the renewable energy transition across the globe, with customers in Asia, Europe, the Americas and now, Australia.
FFI will use hybrid cloud architecture to deploy AVEVA solutions in gathering and visualizing data in order to optimize performance across its operations. The industrial software includes AVEVA Unified Engineering, AVEVA Enterprise Resource Management and AVEVA Asset Information Management.
Peter Herweck, CEO of AVEVA, said: "We are delighted to be helping to accelerate the energy transition through our partnership with FFI. The agreement is in line with our belief that our biggest opportunity to positively impact greenhouse gas emissions is by using our software solutions to drive sustainable outcomes across the industrial sector – something we call our technology handprint. We look forward to strengthening our contribution to FFI's green hydrogen vision, and to supporting all our customers on their path towards net zero."
With access to built-in templates and visualization tools, FFI's team will benefit from new ways to optimize operations, increase efficiency, improve collaboration, and reach their net-zero goals. The deployment lays the foundation for a complete operational digital twin and, ultimately, successful project execution. These capabilities are available to FFI and its engineering, procurement and construction partners (EPCs) through the AVEVA Flex subscription program, providing for streamlined use and consumption.
FFI is a global green energy company committed to producing zero-carbon green hydrogen from 100 per cent renewable sources. It is leading the green industrial revolution, developing technology solutions for hard-to-decarbonize industries, while building a global portfolio of renewable green hydrogen and green ammonia projects. 
The new agreement with FFI is based on the Project as a Platform (PaaP) concept, where a single centralized hosted environment gives EPCs access to specific system domains so they can undertake designated engineering design activities in line with pre-agreed standards.
AVEVA and FFI are partners in the global First Movers Coalition (FMC), announced at the World Economic Forum earlier this year. FMC members commit to purchasing a proportion of industrial materials and long-distance transport from suppliers using near-zero or carbon-zero solutions, in order to drive the highest levels of environmental stewardship as set out under the Paris Climate Goals.
The use of green hydrogen and green hydrogen-based fuels is among the most significant ways that industries can eliminate carbon emissions, and drive energy efficiency, behavioral change and electrification, according to the International Energy Agency.
International financial services company Goldman Sachs estimates that green hydrogen, derived from renewable sources such as wind and solar, could supply up to 25% of the world's energy needs by 2050 and become a $10 trillion market by 2050. As a result, industrial enterprises are seeking expertise and digital technologies to help pivot to this renewable energy source and to rethink the design and operation of their facilities. With the breadth and agility of its portfolio, AVEVA is well positioned to address the low-carbon transition and support the rapidly expanding and innovative green hydrogen sector.
-ENDS-
About AVEVA
AVEVA is a global leader in industrial software, sparking ingenuity to drive responsible use of the world's resources. The company's secure industrial cloud platform and applications enable businesses to harness the power of their information and improve collaboration with customers, suppliers and partners.
Over 20,000 enterprises in over 100 countries rely on AVEVA to help them deliver life's essentials: safe and reliable energy, food, medicines, infrastructure and more. By connecting people with trusted information and AI-enriched insights, AVEVA enables teams to engineer efficiently and optimize operations, driving growth and sustainability.
Named as one of the world's most innovative companies, AVEVA supports customers with open solutions and the expertise of more than 6,400 employees, 5,000 partners and 5,700 certified developers. With operations around the globe, we are headquartered in Cambridge, UK and listed on the London Stock Exchange's FTSE 100.Learn more at www.aveva.com
Copyright © 2022 AVEVA Solutions Limited. All rights reserved. AVEVA Solutions Limited is owned by AVEVA Group plc. AVEVA, the AVEVA logos and AVEVA product names are trademarks or registered trademarks of AVEVA Group plc or its subsidiaries in the United Kingdom and other countries. Other brands and product- names are the trademarks of their respective companies.