20 Oct 2022
Carrier and SOLANREF Deliver Improved Sustainability and Efficiency to Monoprix with Custom MiniCO2OL Unit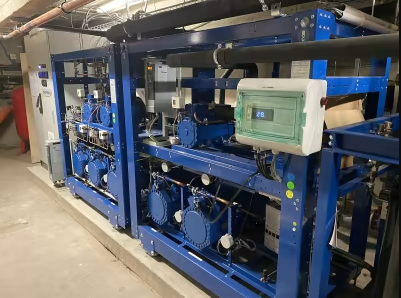 Monoprix has upgraded the refrigeration system of one of its premium stores in Montpellier with a custom-built Carrier MiniCO2OL® unit fitted by installation specialists SOLANREF. Delivering quieter operation and long-term sustainability benefits, the new unit features a carbon dioxide (CO2) rack that was uniquely split into seven pieces, designed to meet the significant installation challenges of the supermarket's location in the city's historic Place de la Comédie. Carrier is part of Carrier Global Corporation (NYSE: CARR), the leading global provider of healthy, safe, sustainable and intelligent building and cold chain solutions.
The MiniCO2OL refrigeration system is fitted with an ECO compressor that delivers cooling capacity up to 21kW in MT and up to 140kW in LT to supply the display cabinets and cold rooms. It is also equipped with a 70kW chiller for air conditioning and heat recovery for heating the store. This makes it ideal for a wide range of refrigeration and freezing applications, as well as heating and cooling. Using CO2 (R744) as a natural refrigerant, the unit satisfies the EU F-Gas regulations, delivering significant sustainability and operational benefits with a global warming potential of just one.
"SOLANREF approached us with a very specific request relating to noise, sustainability and location for this store," said Gaël Grenat, Sales Director, Carrier. "This provided us with the perfect opportunity to showcase the power and flexibility of the MiniCO2OL, while also demonstrating our ability to meet even the most demanding applications."
The office of Garcia Energy provided dedicated support for the custom, seven-piece design, which allowed a team from SOLANREF to transport the system into the Monoprix store's machine room more easily. Located directly beneath the Place de la Comédie, the machine room is accessed by a passage with a clearance of just 1.5 by 1.8 metres, which made it impossible to install a standard unit.
Significantly quieter than the unit it replaced, the MiniCO2OL unit refrigerates more than 100m of cabinets throughout the 1,200m2 store. The unit features three variable speeds to allow power usage to be continuously adjusted to meet the store needs. In addition, excess heat generated by the refrigeration unit is recycled by the heat recovery and water gas cooler system and redistributed into the store's air conditioning or into a borehole water loop, further reducing the site's carbon footprint.
These factors combine to support Carrier's goal of reducing customers' carbon footprint as part of Carrier's 2030 Environmental, Social and Governance goals.
For more information, visit carrier-refrigeration.com or follow @SmartColdChain on Twitter.